In a notable achievement for the Nigerian music scene, Street-hop artist Portable clinched the esteemed title of "Best New Artist" at the African Entertainment Awards (USA).
His triumph in this category involved surpassing stiff competition from renowned artists such as Seyi Vibez, Odumodublvk, Blaq Bones, among others.
This win marks a significant milestone for Portable, representing his inaugural international accolade. The recognition comes as a testament to the artist's rising prominence and the global appeal of his unique street-hop style.
The announcement of Portable's victory reverberated through social media platforms, with ChartsAfrica taking to Twitter to share the news.
Their tweet conveyed hearty congratulations to the artist, stating, "Congratulations #Portable on winning the Best New Artist Award at the 2023 African Entertainment Awards, USA (AEUSA)."
Acknowledging the honor, Portable himself shared the announcement on his Instagram page, expressing gratitude for the achievement. Known for his distinctive street-hop flair, Portable has consistently captivated a diverse audience, turning heads in the music industry.
This win not only reflects Portable's individual success but also underscores the thriving and dynamic landscape of Nigerian street-hop music on the global stage.
As he continues to make waves, Portable's recognition at the African Entertainment Awards serves as a testament to the growing influence of Nigerian artists on the international music scene.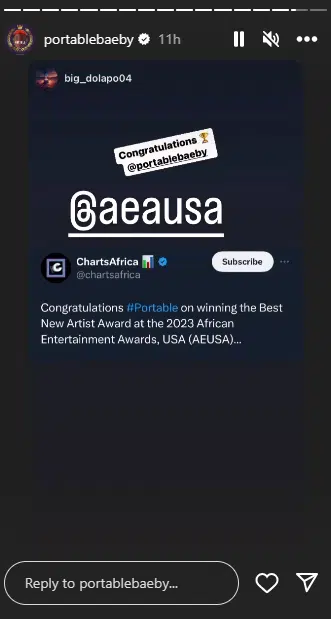 Download on Android
Download on iPhone