Eighty-three newly-promoted police officers from the Anambra State Command of the Nigeria Police have been decorated by the Anambra State Commissioner of Police, Mr. Echeng Echeng.
The decoration which took place at the Command headquarters in Awka, followed the recent approval for the promotion of the officers, by the Police Service Commission.
Emmanuel Chigbata reports that among the newly-promoted police officers were one Superintendent of Police who was promoted to the rank of Chief Superintendent of Police, Fifteen Deputy Superintendents of Police elevated to the rank of Superintendent of Police and Sixty-Seven Assistant Superintendents of Police Two, promoted to Assistant Superintendent of Police one.
Speaking during the event, Mr. Echeng congratulated the beneficiaries on behalf of the Inspector-general of Police Mr Alkali Baba Usman.
Mr Echeng urged the newly promoted officers to redouble their efforts towards fighting crime and exhibiting high professionalism and civility to members of the public and respect for human rights to ensure that life and property of Ndi Anambra are protected.
He added that the promotion is in line with the Inspector-General of Police resolve towards boosting the morale of Police officers for effective service delivery, stating that the promotion comes with greater responsibility, dedication and discipline.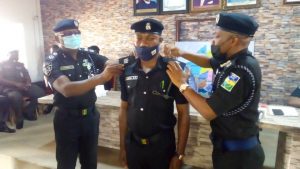 Some of the newly promoted Police officers, including Superintendent of Police Stephen Ewa, Superintendent of Police Joy Yusuf, Assistant Superintendent of Police One Mike Ugwu, appreciated the Inspector-General of Police and the Police Service Commission for finding them worthy of the promotion and promised to redouble their efforts in discharging their duties professionally.